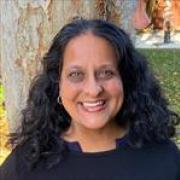 Kala Mehta, DSc, MPH
Associate Adjunct Professor
Epidemiology & Biostatistics
Kala is an Associate Adjunct Professor in the Department of Epidemiology and Biostatistics at the University of California, San Francisco. Kala also teaches clinical research methods to undergraduates, medical students, residents, fellows, and international faculty. She uses different styles in her teaching including traditional 'brick and mortar' as well as cutting-edge online education technologies. She is also faculty of the SFBUILD, a pipeline program to promote diversity in science. In this program she works with undergraduate students, teaches them clinical research skills, and then works with them to find research placements in labs at UCSF and San Francisco State University.
In terms of research, Kala focuses on both domestic and international vulnerable populations. Her early work examines disparities in older adult health. Her more recent work focuses on the intersection of social entrepreneurship and health in a global context. From 2011-2014, she was a faculty affiliate of the Stanford Graduate School of Business, where she led a research evaluation on the impact of a management and transportation intervention on health in Zambia. Her current research evaluates a large maternal and child health intervention in Bihar, India.
Kala received her DSc. in Epidemiology from the Erasmus University Medical School in Rotterdam, the Netherlands, and has obtained post-graduate specialization in epidemiology and clinical research from the Johns Hopkins Bloomberg School of Public Health and the University of California, San Francisco.