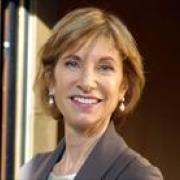 Kathryn Phillips, PhD
Kathryn A. Phillips, PhD, is Professor of Health Economics and Health Services Research in the Department of Clinical Pharmacy at UCSF. A leader in the application of new technologies to improve healthcare, she is the Founding Director of the UCSF Center for Translational and Policy Research on Precision Medicine (TRANSPERS). She is a core faculty member in the UCSF Philip R. Lee Institute for Health Policy Studies and UCSF Helen Diller Family Comprehensive Cancer Center, and is affiliated with the Institute for Human Genetics, Department of Epidemiology and Biostatistics, Baker Computational Health Sciences Institute, and Global Health Sciences.
Kathryn focuses on the value of new technologies and how to most effectively and efficiently implement them into health care. Her core specialty is precision medicine — a new era of healthcare where medical interventions can be tailored to individual patients based on their unique genetic make-up. Her work spans multiple disciplines, including basic, clinical and social sciences, and brings together leading experts in academia, industry, healthcare, payers, and government. Her pioneering research on the application of health services research to personalized medicine has revealed insights on how to bridge the gap between emerging technologies and their use in the clinic. Kathryn led one of the earliest studies on the societal implications of pharmacogenomics, underscoring its potential to reduce the incidence of adverse drug reactions (JAMA, 2001). Kathryn has also conducted seminal work on HIV, as her analysis of HIV home testing informed the FDA's decision to approve the first home collection HIV test (New England Journal of Medicine, 1995).
Kathryn has published over 150 peer-reviewed articles in major journals including JAMA, New England Journal of Medicine, Science, and Health Affairs and has been repeatedly named as being in the top 2% of authors for career-long citations in her field and in the top 100,000 of all researchers (Baas, 2021; Ioannidis 2020). She has had continuous funding from NIH as a Principal Investigator for 3 decades and was recently awarded a 5-year, $5M NIH grant to examine payer coverage and economic value for emerging genomic technologies. Kathryn serves on the editorial boards for Health Affairs, Value in Health, JAMA Internal Medicine, Genetics in Medicine (section editor); is a member of the National Academy of Medicine Roundtable on Genomics and Precision Health; and has served on the governing Board of Directors for GenomeCanada and as an advisor to the FDA, CDC, President's Council of Advisors on Science and Technology, and the White House Office of Science and Technology. She has also served as an advisor to many diagnostics, sequencing, and pharmaceutical companies as well as venture capitalists. Kathryn is Chair of the Global Economics and Evaluation of Clinical Sequencing Working Group, and a member of one of the three evidence review committees for the Institute for Clinical and Economic Review (ICER). Her work has been quoted by the Washington Post, Wall Street Journal, New York Times, CNBC, Reuters, Newsweek, and other major news outlets.
Disclosures: Current
ICER: Dr. Phillips receives honoraria from the California Technology Assessment Forum (CTAF), which is an independent appraisal committee for the Institute for Clinical and Economic Review (ICER).
Illumina, Inc.: Dr. Phillips receives consulting from Illumina for support of the Global Economics and Evaluation of Clinical Genomics Sequencing Working Group (https://www.geecsecon.org/).
Disclosures: Completed in past 3 years
Precision Health Research, Singapore (PRECISE). Dr. Phillips is a member of the Health Economist Expert Network for PRECISE. PRECISE is a central entity set up to coordinate the government effort to implement Phase II of Singapore's 10-year National Precision Medicine strategy. (ended 2022)
Philips Healthcare. Dr Phillips was a member of a one-time meeting of the North American Oncology Advisory Community. Philips Healthcare provides healthcare solutions for diagnostic, treatment, and preventive care. (ended 2021)
Avia Health. Dr. Phillips was a consultant to Avia Health, which focuses on digital transformation to improve patient outcomes, streamline processes, and reduce costs. (ended 2022)
Association of Community Cancer Centers. Dr. Phillips served on the ACCC policy advisory board (ended 2021)
DeciBio Consulting. Dr Phillips served on a one-time advisory board on mult-cancer early detection tests (2021)
Roche Diagnostics. Dr. Phillips provided a one-time review of a clinical genomic profiling evidence assessment tool (2021)