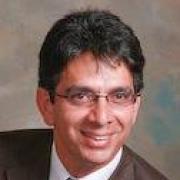 Ralph Gonzales, MD, MSPH
Dr. Ralph Gonzales is Associate Dean for Clinical Innovation and Chief Innovation Officer for UCSF Health. His research has played a significant role in national and global efforts to combat antimicrobial resistance by improving antibiotic prescribing practices - the body of which provides a successful roadmap for translating evidence into practice, policy and public health. Dr Gonzales' research is multidisciplinary, patient-centered, and informed by relevant stakeholders and policy makers such as the CDC, NCQA, professional societies and community clinicians and patients. It represents the full spectrum of translational research - from practice guideline development, to implementation of innovative health care interventions, to conducting larger community-based trials to examine the comparative effectiveness of different health care interventions.
In addition, Dr. Gonzales is currently leading several project teams in designing, implementing and evaluating new ways to improve primary care-specialty care communication and care coordination, focusing on strategies that achieve the triple aim of improving quality, outcomes and decreasing costs. One includes the use of eReferrals and eConsults to streamline the referral and coordination process; another project is evaluating new team-based strategies to reduce unnecessary follow-up visits in specialty care.